A Radical Vision To Change The Way
Radio Advertising Is Sold
Will People Laugh This Time?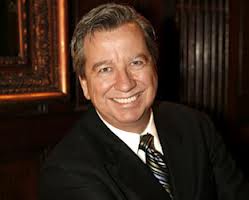 By  B. Eric Rhoads
Radio Ink Publisher
May 20th, 2014
Think about radio's selling challenges for a minute. Do any of these issues sound familiar?
– Hiring great sellers is one of your most difficult tasks. You're up against pharmaceutical companies and others offering great packages, cars, powerful incentives that can double income, and three solid months of training. Meanwhile, you're offering low base or straight commission, few incentives, no car, little or no training, and if they don't cut it in 90 days, they lose their job.
– Training is a nightmare. Who has time to train people properly? In the back of your mind, you're thinking, "Why bother?" because if they don't make it in 90 days, they'll be gone anyway, either by your choice, or theirs because they're not making enough money. Training takes time you don't have, and there is no effective training program in the building. Plus, the sellers want to hit the streets (and you need them to).
– Turnover is a problem because of the "make it or break it rule." There is hardly time to build relationships with clients before it's time to make a change. And the clients don't like the constant turnover either.
– Great selling is rare. How many dollars are left on the table because someone isn't following up properly? How many people even understand how to overcome objections, how to make radio work well, and how to make the cash register ring?
– The best sellers have become order takers. New business is in the hands of the younger, less experienced sellers. Those with experience have more billing and are riding the gravy train instead of bringing in new business.
– No one wants to beat the streets for new business. Cold calling isn't fun. People get tired very quickly of having doors slammed in their faces. Call reports may reflect people contacted when your sellers were at the movies. You know there is tons of new local business to be had, but it's not coming in as fast as you believe it should.
A RADICAL CONCEPT TO REINVENT THE WAY WE DO RADIO SALES
I believe I can eliminate these headaches and reinvent how we sell radio. But you'll probably laugh, because what I'm proposing is a radical concept.
OVER TWO DECADES OF HAVING RADIO PEOPLE LAUGH AT MY STRANGE IDEAS.
I've been publisher of Radio Ink for well over two decades and have proposed some outlandish ideas. People laugh and roll their eyes when they read some of my notes from Radio Ink. "There goes Eric, off on another tangent." I'm used to it. Again, I expect snickering when people hear what I'm about to propose.
You laughed when I predicted industry consolidation.
You laughed when I challenged the NAB on the Eureka system for digital radio and their ownership stake.
You laughed when I launched a conference devoted to this new thing called the Internet and told you radio stations would have these new things called websites.
You laughed when I said satellite radio and streaming would one day be embraced by consumers.
You laughed when I said one day every home will have a high-speed connection.
You laughed when I went to Silicon Valley to launch an online music service.
You laughed when I said that radio risks losing control of the car radio and that Internet radio would become standard on the dashboard of every car.
I see things that will impact our industry earlier than most. I don't know exactly why — it's probably because I'm obsessed with learning what's new and because I read obsessively.
If you've been with me all these years, you know that I've been wrong a lot. But you also know I 've been right a lot. As Roy Williams said to me recently, "Eric, you're almost always right, you're just 10 years too early." Yes, I was 10 years early on Internet radio.
This time the timing is perfect, and my solution will increase local radio billing 30 to 50 percent within 90 to 120 days of when this is implemented, and it won't require a single new salesperson. How's that for radical?
READ MORE NOW: http://ericrhoads.blogs.com/ink_tank/2014/05/radicalvision.html#radical
Streamline Publishing Inc.|1901 S. Congress Ave.|Ste. 118|Boynton Beach|FL|33426