Fresh Radio Edmonton launches Christmas Friday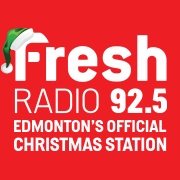 Starting this Friday 92.5 Fresh radio Edmonton will be flipping to all Christmas. Word is after the Christmas season they will launch a new format. This past year or so they have put a lot of focus on older music from the 80's to now but it has made little difference in ratings so far. Edmonton has Kiss pulling in an average 4.1 share with Fresh at 3.5 and Hot and Virgin each at 2.9. Could we see Fresh take a run at the Bear? Sonic? Can Edmonton support another rock station? If programmed right you could see Fearless Fred return to Edmonton airwaves similar to his show at Power 97 Winnipeg. Fred was a long time host on The Bear. Only time will tell what will happen at 92.5. Last year around this time the struggling Fresh radio Winnipeg let go of the on air staff and went all Christmas and then flipped on Christmas day evening to Peggy @ 99.1.
This will be another story we will follow closely.
Published on November 16, 2017 at 12:04 pm by Brian Cook
---