Celebration of Tammy's Life by Joanna Mileos
By Joanna Mileos
PSR Contributor
Friday April the 15th, 2016
If you give out kindness, you get kindness back, the same with generosity, compassion and thoughtfulness. It may not come back from the person you were hoping for but somewhere down the line, the equation for the universe is that when you give to someone, somehow the universe turns around and gives it back to you.
Such was the case on Sunday April 10th, 2016.  Close to 300 people gathered at the Century Plaza Hotel on Burrard to celebrate the life of Tammy Moyer and to return a little piece of the equation to *her* universe – 7 year old son Emelyan.   
The outpouring of support was amazing and beyond anything I ever expected.
.
From Wendy Lisogar-Cocchia who didn't hesitate for a moment to donate the venue at her hotel,  Christine Awram from Women of Worth – the angel that Tammy left me with; Inspirational Speaker and Author Peter Legge who spoke and delivered a prayer to Tammy's memory,  the band Left Coast who didn't hesitate to play for us gratis because of the support Tammy had shown them;  long-time broadcasters and friends Sophie Lui and Jody Vance who MC'ed,  West Jet who donated two tickets anywhere they fly for a raffle as well as all the many individual and corporate donations to our silent auction; *Tammy's Angels who wore tiaras to represent Tammy's "bling-bling" style,  and last but not least — the almost 300 people who wanted to attend to celebrate Tammy and help with her son's future.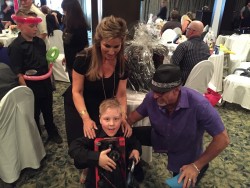 One couple who only met Tammy a few times really blew me away.  Nick and Nicky Kanavaros (pictured left with Emelyn) purchased over a thousand dollars in auction items that they promptly gifted to the family.   One of those items was a Star Wars Gift Pack worth $750 donated by Disneyland – Tammy's favorite place on earth.   Well, talk about the force awakens.  Emelyan's face was as bright as the light sabre that came in the package.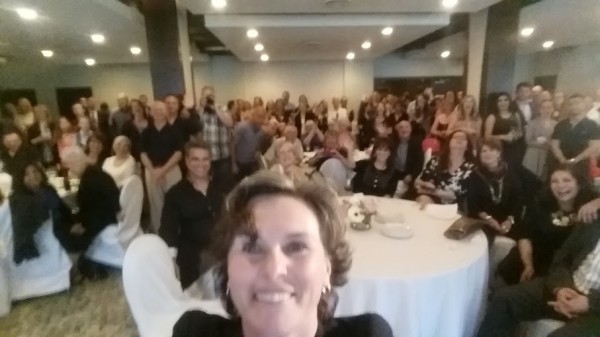 World Kickboxing Champion Leah Goldstein (above)  made the crowd erupt into laughter when she reminded us of Tammy's obsession with taking selfies.  Leah whipped out her cell phone, turned her back to the crowd and took a selfie (Above) with everyone in the background.  "In honor of you, Tammy", she said.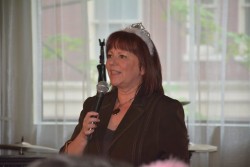 Christine Awram (right) from Women of Worth talked about what Tammy meant to her.  Women and children's issues were very dear to Tammy's heart and it gave her great honour to be able to participate in Christine's events.  In past years, Christine's organization has honoured women with the Woman of Worth Awards. The criteria of these awards are based on women who exemplify respect for themselves as well as others, lead through empowerment and inspiration, experience challenges and learn from them with fortitude and grace as well as stand as a role models with authenticity and courage.   Moving forward, Christine announced the Women of Worth awards will be renamed the Tammy Moyer Women Of Worth Awards.
In the process of putting Tammy's event together, I learned something about my best friend that I didn't know or at least had not realized before.  Tammy had an impact on every single person that crossed her path.  She wasn't just my amazing friend.  She was everyone's.  
Tammy participated and helped fundraise for numerous causes. No matter what challenges she faced in her personal or family life, this woman always had an extended hand to help anyone who asked for it.
I will never forget the year she called me with just 3 weeks to Christmas.
"Mileos, (as she would affectionately call me) the toy store needs to make a donation."
I said "Ok Tammy, what are you up to now?"  
"I have 86 kids that need a Christmas under the tree", she said.  
Tammy found out an under-privileged inner city school wasn't going to get the holiday help it counted on that particular year for whatever reason.  Despite a young son, getting up at 2:30 every morning to drive to News 1130, go back to Maple Ridge to spend some time with her son and then host a charitable event in the evening; Tammy took it upon herself to make phone calls for donations, took money out of her own pocket, enlisted the Moyer clan along with her son Emelyan and made sure 86 children had something to open on Christmas day.
Thanks to Rick Lee of Jack FM for videotaping last Sunday's event
Tammy didn't even have to meet you in person to have an impact on you as was evident on March 21st when News1130 paid their respects with a tribute on the air.  The amount of people who called as well as posted comments on the website was a clear testament to the infectious personality she had.
My husband and I were talking recently about all the wonderful things Tammy did to help people. He said I just don't understand how God could take someone so good to everyone, a mother to a young son and a huge supporter of her family.
I thought for a moment and said, you know, I've asked myself that over and over again and the only answer I can come up with is:  To make those of us she leaves behind come to the realization that we had an Angel in our midst who taught us not to take anything for granted, to love and be loved and that all of us – even in some small way — need to be a little bit like Tammy and the selflessness she had.   
Together, I think we all managed to do just that.  Close to forty thousand dollars from this event alone will go into a trust fund for Emelyan Moyer.  
Sign me #forevergrateful for the immense support received and for the blessing in my life that was Tammy Moyer.
If anyone would still like to contribute to Emelyan's future, please feel free to email me at [email protected]
More Pictures of last Sundays gathering HERE
*Tammy's Angels:
Christine  Awram, Andrea Bak, Brenda Nicholas, Candace Chaput, Jacqueline Hyde, Joanne Sutton, Jody Vance, Kari-Lyn Twidale, Katharine Kitts, Sophie Lui, Tamara Slobogean and Jennifer Thomson
.
Joanna Mileos' Bio Courtesy of Vancouver Broadcasters.com
Joanna Mileos
– News reporter KBS cluster Kootenays BC 1988-89; morning show co-host/news anchor CISQ-FM/CISW-FM Squamish/Whistler 1989-90; traffic reporter/news announcer/programming promotions co-ordinator CISL/CKZZ-FM Vancouver 1990-96;
segment reporter Viewpoint Rogers Cable Richmond 1995-97; host Plugged In Rogers Richmond 1997-99; news reporter/weekend anchor 1996-99 and p.m. drive news anchor 1999-2007 CKWX Vancouver; fill-in weekend news reporter Citytv Vancouver 2004; ownerThe Granville Island Toy Company Vancouver 2007-current; freelance voice current.  LinkedIn profile
---
Published on April 14, 2016 at 10:15 pm by Greg Simpson
---