Print Topic - Archive
Puget Sound Radio / General Chat / Gore Vidal Dies
Posted by: newsman, August 1, 2012, 6:53am
Gore Vidal, chronicler of American life and politics, dies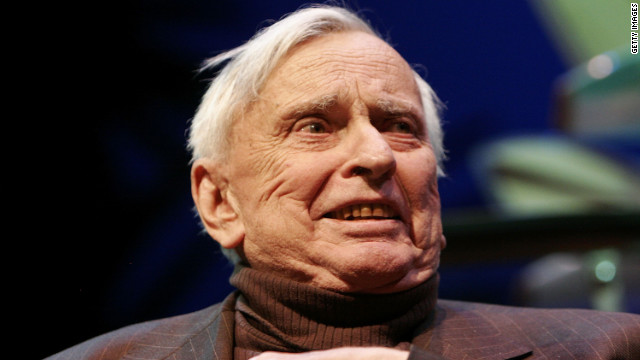 Gore Vidal wrote more than 20 novels, five plays, numerous screenplays, more than 200 essays and the memoir "Palimpsest."
CNN Wire Staff
August 1st, 2012
(CNN) -- Gore Vidal, an eclectic author who faithfully chronicled the major shifts and upheavals in the United States in books, essays and plays, has died. He was 86
.
Vidal died at his Los Angeles home Tuesday evening of complications from pneumonia, his nephew Burr Steers said. The author had also been suffering from heart ailments.

Widely hailed as one of America's greatest man of letters, Vidal was a high-profile commentator on politics, including his bitter opposition to the war in Iraq.

Born into politics as the member of a rich and powerful family, he joined the Navy at 17 before shocking the world by writing one of the first novels to include an openly gay character: his 1948 work "The City and the Pillar."
Gore Vidal on gay marriage

Since then, he wrote 24 novels, five plays, numerous screenplays, more than 200 essays and the memoir "Palimpsest." His collection of essays, "United States: Essays, 1952-1992," won the National Book Award in 1993.

Vidal also appeared in a number of films, including the political satire "Bob Roberts" where he played a U.S. Senator.

He ran for office in 1960, calling for the recognition of Communist China, and later made a Senate bid in 1982, which became the subject of a documentary.

Throughout his life, Vidal didn't shy away from controversy, either actively courting it or inviting it through his ascerbic one-liners.

"I've had hard targets in my lifetime. I've taken on general superstitions, but that's what writers do. So I certainly, wouldn't have changed my modus vivendi one bit," he said in a CNN interview in 2007.

In the latter stages of his life, Vidal often appeared on the television talk show circuit, going head to head with those with opposing viewpoints, and he gave as good as he got.

In one live TV debate, conservative author and journalist William F. Buckley Jr. famously called him a "queer."

"Well, I mean I won the debates, there was no question of that," Vidal recounted. "They took polls, it was ABC Television... And because I'm a writer, people think that I'm this poor little fragile thing. I'm not poor and fragile. ... And anybody who insults me is going to get it right back."

He also voiced himself on the animated show "The Simpsons."

Vidal would say he was a once-famous novelist who was relegated to going on television because people "seldom read anymore."

"All these literary prizes should go to the readers: 'Nobel Prize for the best reader in Milwaukee.' And you know, we must honor them because they are so few," he said in the same CNN interview.
http://www.cnn.com/2012/08/01/showbiz/gore-vidal-death/index.html
.
Print page generated: May 23, 2013, 10:15pm