Wednesday September the 22nd
ON THIS DAY in 1899
six years before he developed the Audion tube, radio pioneer
Lee DeForest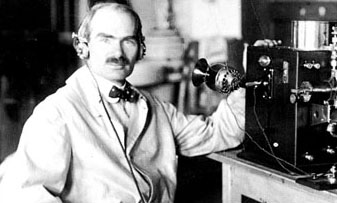 sought employment with a better known wireless figure,
Guglielmo Marconi
.
On this day in 1902, actor/director/producer
John Houseman
was born in Bucharest Romania.
He & Orson Welles co-founded the Mercury Players in the 1930's. Houseman won an Oscar for his work as an actor in The Paper Chase, a role he continued in the TV series of that name.
He also played a grandfather on Silver Spoons. He died Oct 31, 1988 of spinal cancer at 86.
On this day in 1909, western actor
Allan "Rocky" Lane
was born Harry Albershart in small town Indiana. After playing in scores of western movies Lane starred as Red Ryder in the 1950's TV series of that name. He was the voice of Mr. Ed in that TV series in the 60's. He died Oct 27, 1973 at 64.
On this day in 1914,
actress
Martha Scott
was born in Jamesport Mo. Her film debut in Our Town in 1940 saw her receiving an Academy Award nomination Best Actress. Also had roles in The Howards of Virginia, Cheers for Miss Bishop, The Desperate Hours, The Ten Commandments, Ben-Hur, Airport 1975 and The Turning Point. On TV she played mothers on Bob Newhart, Bionic Woman & Dallas. She died May 28 2003 at 88.
On this day in 1917,
CBS
newsman
Richard C. Hottelet
was born.
He covered World War II for
UPI
&
CBS Radio
, having been recruited by
Edward R. Murrow
, and broadcast the first eyewitness account of the Normandy Invasion June 6, 1944. On this his 89th birthday he is still active, lecturing periodically at George Washington University.
On this day in 1927,
NBC
pioneer sportscaster
Graham McNamee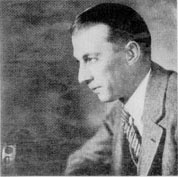 broadcast the famous "Long count" championship fight in which Jack Dempsey lost the heavyweight boxing title to Gene Tunney.
On this day in 1930, singer
Joni James
was born Joan Carmello Babbo in Chicago. Her hits in the 1950's include How Important Can It Be?, Your Cheatin' Heart, Have You Heard, & Why Don't You Believe Me. She has a star on the Hollywood Walk of Fame.
On this day in 1935, the final broadcast of
Gulf Headliners
was heard on CBS. This was the Sunday night half-hour which starred popular homespun philosopher
Will Rogers
until his untimely death in an Alaska plane crash August 15.
On this day in 1943, singer
Kate Smith
finished her War Bond radio appeal. For 13 continuous hours Smith had stayed on the air, collecting a whopping $39 million dollars in bond pledges.
On this day in 1949, actress
Meryl Streep
was born in Summit New Jersey. Besides her many distinguished big-screen performances, Streep played multiple roles in the TV miniseries, Angels in America.
On this day in 1955,
BBC-TV
finally had some competition, as commercial television was beamed to homes in Great Britain for the first time. The rules said that only six minutes of ads were allowed each hour and there was no Sunday morning TV permitted.
On this day in 1957,
James Garner
got his big break, playing
"Maverick"
for the first time on
ABC-TV
.
It was the story of Bret Maverick, a card shark in the Old West.
Also this day in 1957, the
CBS Radio
Workshop was silenced after 18 months of what the critics said was ingenious radio programming.
On this day in 1962, there was a hootenanny of a good time in, of all places, New York's famed Carnegie Hall. The cast included newcomer
Bob Dylan
making his first appearance at Carnegie Hall.
On this day in 1964,
Robert Vaughn
starred as Napoleon Solo when
The Man From U.N.C.L.E
. debuted on
NBC-TV
. Solo's trusty side-kick in this James Bond spoof was Illya Kuryakin, played by David McCallum. U.N.C.L.E. stood for United Network Command for Law and Enforcement.
On this day In 1965, singer
Roger Daltry
of The
Who
nearly got thrown out of the band for punching out drummer
Keith Moon
on the opening date of their Scandinavian tour in Copenhagen.
Also in 1965, in Detroit,
The Supremes
recorded "I Hear a Symphony."
On this day in 1966, the
Lovin' Spoonful
's "Summer In The City" was certified Gold.
On this day in 1967,
The Doors
appeared on the
Murray the K
Show on WPIX-TV in New York City performing 'People Are Strange' and 'Light My Fire.' (Murray is pictured.)
On this day in 1969, radio station
CKQR Castlegar
signed on the air on AM 1230.
On this day in 1969,
Diana Ross
made a solo guest appearance on "Rowan & Martin's Laugh-In" on NBC-TV.
On this day in 1974, '
The Sonny Bono Comedy Revue
' was shown for the first time on ABC-TV. It lacked magic without Cher and was cancelled 4 months later.
On this day in 1979,
ABC
began airing the first season of
"Hart to Hart."
On this day in 1980,
John Lennon
signed with
Geffen Records
. The Lennon LP, Double Fantasy, was released in November, less than a month before John was assassinated.
On this day in 1981, a major contributor to The Great American Songbook, composer
Harry Warren
died aged 88. He wrote over 800 songs including 'I Only Have Eyes For You', (a hit for The Flamingos and Art Garfunkel), 'You Must Have Been a Beautiful Baby', 'Jeepers Creepers', 'That's Amore' and 'Chattanooga Choo Choo'. Warren's songs have been featured in more than 300 films.
On this day in 1982. Vancouver actor
Michael J. Fox
debuted in the NBC comedy, Family Ties.
Also in 1982,
The Who
kicked off what they said was their 40-date farewell tour that ended up grossing $23 million. They reunited in 1985.
Still in 1982,
Johnny Cash
and
Andy Griffith
began filming the TV-movie "Murder in Coweta County."
On this day In 1983, the
Everly Brothers
performed together for the first time since their on-stage breakup at "Knott's Berry Farm" in LA ten years earlier. Phil had smashed his guitar on the stage and walked off, leaving Don alone in front of the audience.
On this day in 1984, former lead singer of the Babies,
John Waite
went to No.1 on the US singles chart with 'Missing You'.
On this day in 1985, the poor of America's Heartland ... the financially troubled farmers of Middle America ... got help from their friends in the music biz. Singing stars
Willie Nelson, Roy Orbison, Joni Mitchell, Neil Young
and
John Cougar Mellencamp
held a benefit concert to raise funds. The stars came out and so did the money. The 1st Farm Aid concert at Champaign Illinois raised ten million dollars.
Also this day in 1985, the big winners as the
37th Emmy Awards
were presented, included
Cagney & Lacey, The Cosby Show & Tyne Daly
.
On this day in 1987, actor
Dan Rowan
,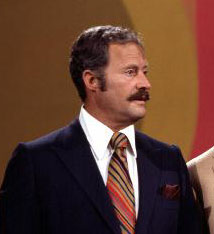 co-host of
Rowan & Martin's Laugh-in
, died at age 65.
Also in 1987,
ABC
aired the first episode of
"Full House."
On this day in 1989,
one of the mosy prodigious songwriters of all time
Irving Berlin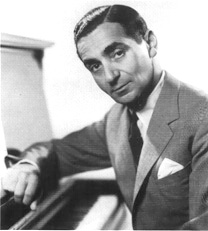 Died at age 101. He wrote more than 3,000 songs in his lengthy lifetime.
Also in 1989, NBC began airing the series "
Baywatch
" with Ladysmith's
Pamela Anderson.
On this day in 1990,
Garth Brooks
' album 'No Fences' entered the Billboard album chart. It went on to become the biggest selling country album of all time and sold more than 13 million copies in the first five years of release.
Also in 1990,
Nirvana
played their biggest gig to date when they appeared at the Motor Sports International Garage in Seattle. Drummer Dave Grohl who would audition for the band in a few days time was in the audience of 15,000 people.
On this day in 1991, Canadian rocker
Bryan Adams
' hit '(Everything I Do) I Do It For You' made musical history as it remained atop the UK pop singles chart for the 12th straight week.
On this day in 1992, "
MTV Unplugged
" renamed one episode "MTV Plugged" when
Bruce Springsteen
played an electric set on the show.
On this day in 1994, Ottawa actor
Matthew Perry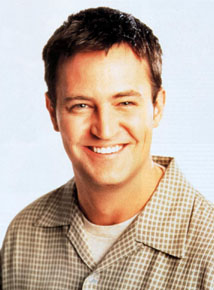 appeared in the premiere of the sitcom "Friends" on
NBC-TV
.
Also this day in 1994, noted jazz critic & author
Leonard Feather
died at 80.
On this day in 1995, the
Turner Broadcasting System
agreed to merge with the
Time Warner
media conglomerate for $7.5 billion.
On this day in 1997,
Elton John
released his Diana tribute "Candle in the Wind 1997."
On this day in 1997, nationally known US sportscaster
Marv Albert
pleaded not guilty to sexual assault charges.
On this day in 1998, singer
Keely Smith
received a star on the Hollywood Walk of Fame.
On this day in 1999,
actor
George C. Scott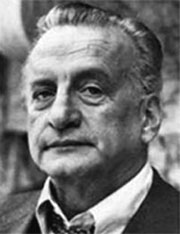 Died at age 71. Besides his many successes on the big screen Scott did live TV in the 1950's, and an acclaimed TV series East Side West Side in the 60's.
On this day in 2003,
Gordon Jump
died at 71.
Jump played befuddled Station Manager Arthur Carlson in the classic TV sitcom, "WKRP in Cincinnati".
On this day in 2004,
CBS-owned stations
were fined a total of $550,000 by the
FCC
for showing
Janet Jackson
's exposed right breast during the Super Bowl halftime show.
Also in 2004, the first episode of
"Lost"
was aired on ABC.
It quickly became one of the big hits of the TV season.
Still in 2004,
CBS News
announced that a panel would investigate the "60 Minutes" story that used forged documents to question U.S. President George W. Bush's National Guard Service. While the memos were dismissed as forged or fake by document experts, the facts alleged have never been disproved.
Again in 2004, the first episode of
CSI: New York
aired on CBS.
On this day in 2006, actor
Edward Albert
died of lung cancer at age 55.
He was the only son of Green Acres star Eddie Albert and Mexican actress and dancer Margo. Edward Albert enjoyed roles in scores of films, and TV shows such as Falcon Crest, Port Charles, The Yellow Rose, Invasion America, Dr. Quinn Medicine Woman, and mini-series Black Beauty and The Last Convertible.
On this day in 2007, singer
Britney Spears
was charged with hit-and-run and driving without a valid licence after she was accused of hitting a parked car and driving away from a Los Angeles car park six weeks earlier.
Today's Birthdays:

Pop Singer Joni James is 80.

Actor Art Metrano (Joannie Loves Chachi, Tough Cookies) is 74.

Actor Paul Le Mat (Lonesome Dove: The Series) is 64.

Singer David Coverdale (Whitesnake, Deep Purple) is 59.

Actress Shari Belafonte (Hotel) is 56.

Singer Debby Boone is 54.

Country singer June Forester of The Forester Sisters is 54.

Singer Nick Cave is 53.

Singer Johnette Napolitano of Concrete Blonde is 53.

Singer Joan Jett is 52.

Opera singer Andrea Bocelli is 52.

Comedienne/TV talk show host/actress Bonnie Hunt (Life With Bonnie, Bonnie Hunt Show, Davis Rules) is 49.

Actress Catherine Oxenberg (Dynasty, Watch Over Me) is 49.

Actor Scott Baio (Happy Days, Charles in Charge, Diagnosis Murder) is 49.

Actor Rob Stone (Mr. Belvedere) is 48.

Bassist-guitarist Dave Hernandez of The Shins is 40.

Singer Big Rube of Society of Soul is 39.

Toronto-born actress Laura Vandervoort (Smallville, V} is 26.

Regina-born actress Tatiana Maslany (Heartland, 2030 CE) is 25.
Chart Toppers - Sept.22

1947
Peg o' My Heart - The Harmonicats
That's My Desire - The Sammy Kaye Orchestra (vocal: Don Cornell)
I Wonder Who's Kissing Her Now - Perry Como
Smoke! Smoke! Smoke! (That Cigarette) - Tex Williams

1956
Canadian Sunset - Hugo Winterhalter & Eddie Heywood
Whatever Will Be Will Be (Que Sera Sera) - Doris Day
Be-Bop-a-Lula - Gene Vincent & His Blue Caps
Don't Be Cruel /Hound Dog - Elvis Presley

1965
Help! - The Beatles
Eve of Destruction - Barry McGuire
Hang on Sloopy - The McCoys
Is It Really Over? - Jim Reeves

1974
Can't Get Enough of Your Love, Babe - Barry White
Rock Me Gently - Andy Kim
I Honestly Love You - Olivia Newton-John
I Wouldn't Want to Live If You Didn't Love Me - Don Williams

1983
Maniac - Michael Sembello
Tell Her About It - Billy Joel
The Safety Dance - Men Without Hats
I'm Only in It for the Love - John Conlee

1992
End of the Road - Boyz II Men
Baby-Baby-Baby - TLC
Humpin' Around - Bobby Brown
Love's Got a Hold on You - Alan Jackson

2001
I'm Real - Jennifer Lopez
Hit 'Em Up Style (Oops!) - Blu Cantrell
U Remind Me - Usher
What I Really Meant to Say - Cyndi Thomson