Thursday February the 7th
ON THIS DAY in 1867
author
Laura Ingalls Wilder
was born in rural Wisconsin. She wrote the books which were the basis for the longrunning TV series Little House on the Prairie. She died Feb 10, 1957, 3 days after her 90th birthday.
On this day in 1887, ragtime piano icon
Eubie Blake
was born James Hubert Blake in Baltimore. He composed more than 1,000 songs, including Memories of You, Love Will Find a Way & I'm Just Wild About Harry. A Broadway show about him titled Eubie opened in 1978. He died Feb 12, 1983, 5 days after his 96th birthday.
On this day in 1915, comic actor
Eddie Bracken
was born in Astoria NY. After becoming a film star in the 40's he made frequent appearances on network radio, and had two short-lived series under his own name. On TV he was seen in guest roles over more than 40 years, including serious dramas like Studio One & Playhouse 90. He died after surgery Nov 14, 2002 at age 87.
On this day in 1917, English comedian
Dick Emery
was born in London. After playing supporting roles for TV comedy star Tony Hancock, his own BBC TV show ran for 12 years beginning in the mid 60's. He died of a respiratory infection Jan 2 1983 at age 65.
On this day in 1919,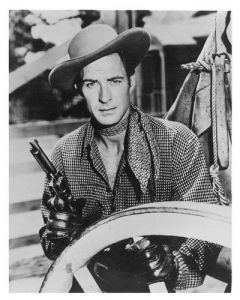 actor
Jock Mahoney
was born in Chicago. He starred as TV's Range Rider & Yancy Derringer in those series in the 50's, then took guest roles in episodic TV for another 35 years. He settled in Bremerton (suburban Seattle) where he suffered a stroke & died Dec 14 1989 at age 70.
On this day in 1923, actor/producer
Keefe Brasselle
was born in Elyria Ohio. After bombing in The Eddie Cantor Story on the big screen, Brasselle became a host & producer at CBS TV where he was friends with president James T. Aubrey. He hosted a variety show plus game shows Be Our Guest and Keep it In The Family, none of which succeeded. Later Aubrey bought 3 Brasselle-produced shows for 1964, The Baileys of Balboa, The Cara Williams Show & The Reporter, all of which were duds. Brasselle died July 7, 1981 of cirrhosis of the liver. He was 58.
On this day in 1941, the
Tommy Dorsey
Orchestra and Frank Sinatra teamed to record "Everything Happens to Me" for RCA Victor in their New York City studios.
On this day in 1944,
Bing Crosby
and the John Scott Trotter Orchestra recorded "Swinging on a Star" in Los Angeles for Decca Records.
On this day in 1949, the No. 1 Billboard Pop Hit was "A Little Bird Told Me'' by
Evelyn Knight & the Stardusters
.
On this day in 1959, rock `n' roll pioneer
Buddy Holly
's funeral was held in Lubbock, Texas.
On this day in 1961, the
Jive Five
recorded "My True Story".
On this day in 1964, more than 3,000 fans jammed Kennedy Airport in New York as
Beatlemania
invaded the U.S. The Beatles, John Lennon, Paul McCartney, George Harrison and Ringo Starr arrived for their first U.S. visit (including an appearance on "The Ed Sullivan Show"). The "Fab Four" controlled the top spot on the pop music charts for the next 15 weeks and owned the top of the album charts for 10 weeks.
On this day in 1968, singer
Stuart Foster
, who sang with Tommy Dorsey's Orch. & on TV's Galen Drake Show, died at age 49.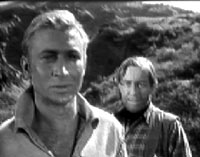 On this day in 1968, actor
Nick Adams
overdosed on a combination of paraldehyde and promazineof which he was taking for a nervous disorder. He was only 36. His major impact was playing Johnny Yuma in an ABC TV series The Rebel.
On this day in 1969,
Tom Jones
, "The Prince of Wales", premiered on ABC-TV after the network acquired the rights to the singing sensation's popular United Kingdom show. The network paid a British production company an estimated $20 million for those rights.
On this day in 1974,
Barry White
's Love Unlimited Orchestra received a gold record for the disco hit, "Love's Theme".
On this day in 1976, the song "50 Ways to Leave Your Lover" by
Paul Simon
topped the charts and stayed there for 3 weeks.
On this day 1976, the
Federal Communications Commission
raided and closed down pirate radio station WCPR, operating out of Brooklyn, New York.
On this day in 1977, the 100th episode of "Barnaby Jones" aired, starring
Buddy Ebsen
.
On this day in 1978, the
"Mork & Mindy"
pilot movie aired for the first time. The series "Mork & Mindy" began airing on September 14, 1978
On this day in 1979, the No. 1 Billboard Pop Hit was "Do Ya Think I'm Sexy?'' by
Rod Stewart
. The song was an international success, reaching No. 1 in 11 countries.
Also this day in 1979, The
Clash
kicked off their first American tour at the Berkeley Community Theatre outside San Francisco.
Again this day in 1979,
Stephen Stills
became the first rock performer to record on digital equipment in Los Angeles' Record Plant Studio. However, Ry Cooder is credited with releasing the first digitally recorded record because Stills never released the material.
On this day in 1980, Justice L. P. Pigeon retired from the Supreme Court of Canada, and
TV cameras were allowed into the Court for the first time to film the proceedings.
On this day in 1981, the TV mini-series "Elvis and Me" (based on
Priscilla Presley
's book) began on ABC.
Also this day in 1981, the song "Celebration" by
Kool & the Gang
topped the charts and stayed there for 2 weeks.
On this day in 1984, actor Brooks West, who played
Richard Rhinelander the Third
on TV's My Friend Irma, died of a heart ailment at age 67.
On this day in 1985, the 100th episode of
"Magnum, PI"
aired.
On this day in 1986, the
Rolling Stones
shot the video for "Harlem Shuffle" in New York City.
On this day in 1987, former CBC chairman
A. Davidson Dunton
died at age 74. He was the last head of the CBC (1945-1958 ) while it had regulatory control over all Canadian broadcasting.
On this day in 1987,
Madonna
's "Open Your Heart" hit #1 in the U.S. It was the third straight number-one single from her "True Blue" album.
On this day in 1988, the first episode of
"America's Most Wanted"
aired on FOX, hosted by John Walsh.
On this day in 1989, the No. 1 Billboard Pop Hit was "Straight Up'' by
Paula Abdul
.
On this day in 1990, Tin Pan Alley composer
Jimmy Van Heusen
died at age 77. His hits with a variety of lyricists include Call Me Irresponsible, Swinging on a Star, Love & Marriage, High Hopes, Darn That Dream, All the Way, Second Time Around & Come Fly With Me, many of them Sinatra favorites.
On this day in 1994,
Paul Anka
was honored at the French music industry's annual awards in Paris for his song "My Way". In 1968 Anka wrote new lyrics to the melody of a French pop hit "Comme d'habitude", which means "As Usual". Anka called his version "My Way", and it became Frank Sinatra's signature song.
Also this day in 1994,
Shannon Hoon
of the Blind Melons was ejected from the American Music Awards for loud and disruptive behavior. He was eventually charged with battery, assault, resisting arrest and destroying a police station phone.
On this day in 1995,
Tupac Shakur
was sentenced to 1 to 4 1/2 years in jail for sexual abuse.
On this day in 1999, songwriter/pianist/actor
Bobby Troup
died of a heart attack at age 80. He is best known as the writer of "(Get Your Kicks) On Route 66," and for playing Dr. Joe Early (
pictured left
) on the TV series Emergency.
On this day in 2000, magician
Doug Henning
died in Los Angeles after battling liver cancer. He was 52. That same day, Foghat singer
"Lonesome" Dave Peverett
died of pneumonia in Orlando, Florida. He was 56.
On this day in 2001, actress/singer
Dale Evans
, the widow & longtime radio/TV/movie partner of Roy Rogers, died of congestive heart failure at age 88.
On this day in 2005,
Paul McCartney
performed at the Super Bowl halftime show in Jacksonville, Florida. He was the first act to play that gig following Janet Jackson exposing her breast at the previous year's Super Bowl halftime show.
Today's Birthdays:

Winnipeg-born folksinger Oscar Brand (Draw Me A Laugh, Get Up Stand Up) is 88.

Country singer Wilma Lee Cooper is 87.

Keyboard player Jimmy Greenspoon (Three Dog Night) is 60.

Actor Miguel Ferrer (Crossing Jordan) is 53.

Saxophonist Brian Travers of UB40 is 49.

Actor James Spader (Boston Legal, The Practice) is 48.

Country singer Garth Brooks is 46.

Keyboardist David Bryan of Bon Jovi is 46.

Comedian Chris Rock (Sat. Night Live, E'body Hates Chris) is 43.

Actor Jason Gedrick (Windfall, Boomtown) is 41.

Actor Ashton Kutcher (That 70's Show) is 30.

Actress Tina Majorino (Veronica Mars, Big Love) is 23.
Chart Toppers

February 7

1950

Dear Hearts and Gentle People - Dinah Shore
A Dreamerís Holiday - Perry Como
The Old Master Painter - Snooky Lanson
Chatanoogie Shoe Shine Boy - Red Foley

1958
Donít/I Beg of You - Elvis Presley
Get a Job - The Silhouettes
Sail Along Silvery Moon - Billy Vaughn
Ballad of a Teenage Queen - Johnny Cash

1966
My Love - Petula Clark
Barbara Ann - The Beach Boys
No Matter What Shape (Your Stomachís In) - The T-Bones
Giddyup Go - Red Sovine

1974
The Way We Were - Barbra Streisand
Loveís Theme - Love Unlimited Orchestra
Americans - Byron MacGregor
Jolene - Dolly Parton

1982
Centerfold - The J. Geils Band
Harden My Heart - Quarterflash
Turn Your Love Around - George Benson
Lonely Nights - Mickey Gilley

1990
How Am I Supposed to Live Without You - Michael Bolton
Opposites Attract - Paula Abdul with The Wild Pair
Downtown Train - Rod Stewart
Nobodyís Home - Clint Black